On Saturday night I ventured out with my two dance girlfriends, (names are always replaced to protect the guilty) The Capitan and Dr. Jem. We went to one of my favorite studios to party at...
Latin Rhythms
. This is the studio I was introduced to at the October competition, they specialize in "club/street style" Latin dancing. The space is fantastic and the gals that run this studio are some of the best! They put on a fantastic dance social, three hours, $12 for non-students, professional DJ spinning some really fun Latin music, and they have an in-house cafe that serves beverages and snacks to their patrons. Dancing consists mostly of Salsa/Mambo, but they also do Cha Cha, Merengue, Bachata, and Cumbia. This is one of the few places I've been where the dance floor actually gets more crowded during a Bachata, rather than clearing out because the crowd isn't familiar with the dance.
"Club style" Latin is really quite different from the more formal Ballroom style of Latin. For example, the basic Salsa step in this more casual style does not require your feet to come together, instead the step is more progressive actually causing the dancers to move forward and back to some degree, rather than staying in one spot like in the Ballroom style. Also, I noticed that the Cha Cha step is really more of a "scoot" during "Cha Cha" instead of the comparatively blatant side-together-side (as an example) in Ballroom. Unfortunately I wasn't asked to dance, nor did I have the confidence to pull a leader to the floor, to see if I could follow this more relaxed style. The Capitan and Dr. Jem were each asked for a dance a few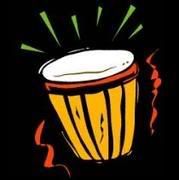 times, and I loved to watch them follow. Both are EXCELLENT dancers, The Capitan is very familiar with dancing in this more relaxed setting, and blends almost seamlessly with her lead. Dr. Jem was following wonderfully, as you would expect from a nationally ranked amateur dancer, although even when she follows a club style lead, her form is very definitely Ballroom.
Even though I didn't get to actually dance, I still had fun... an evening out with my girls is always fun, even when we don't head out to anything dance related. We are all in agreement that more parties at
Latin Rhythms
will be attended. Keep an eye out for more dancing adventures with Dr. Jem, The Capitan and I!