Oh everyone I've got a good one... RT is adding a class to the studio roster!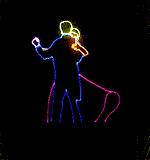 NEW GROUP CLASS at FADS BG!
RT'S TECHNIQUE CLASS
WEDNESDAY @ 8:45pm!


This is all very new and hasn't hit the calendar on the Studio Website yet... but it's bound to be good! RT has this nickname, if you remember, because he is REALLY TECHNICAL in his teaching practices. He works so hard to stay up to date on everything with movement, style, and technique! We're all bound to get a LOT from this class!

That's all I have at the moment...but as I learn more I'll be sure to let you know all about it.

Better still come out to his class!

If you're a student of his it will give you a chance to polish what he's probably told you in a lesson...and if you're not... come on out and learn from a new perspective! I personally always pick up a ton when I'm learning from a different point of view... and you know I'll be there! CHECK IT OUT!!

As with all group classes at FADS BG if you have a private lesson scheduled that week all the group classes are FREE! That's in everybody's budget!

See you on the dance floor!