So at least once a year Fred Astaire Buffalo Grove has a festival... typically in winter...thus Winter Festival. It's kind of an inexpensive way to add some more dance and social experience with everyone at the studio. I love these! This year's Winter Festival includes two special parties, a dance camp taught by Jesse DeSoto and Jackie Josephs, and a social activity that will be sledding and karaoke.
The first party was this past Friday, it's theme was Studio 54/I Love New York... loosely translated means Disco & Pizza. :-) Well I didn't have to think hard about what I was wearing... about 6 months ago I was shopping online and going through some serious clearance websites... I found what I think is a totally crazy out there top that has an asymmetrical neckline...to the point where there just isn't a sleeve on one side... and it's ALL black sequins! I had toyed with the idea of wearing to a few different places but didn't get the nerve, but with Disco as a theme... it was my only option. So I paired it with my black flare leg slacks... because that was the clos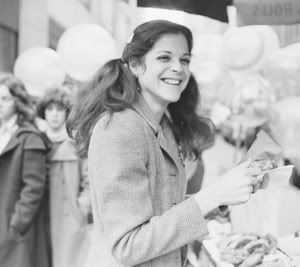 est thing I had to bell bottoms.
So I dressed the best I could, did makeup like I had seen on my mom in pictures from the early 1970's. I was trying to channel one of my favorite 1970's icons Gilda Radner. So I finished and headed out to the party.
The party was nice... everyone from the staff was decked out... Pizza and baked goods were provided for us to snack on, along with the famous champagne punch. There were a LOT of people! I actually danced more than I anticipated... I also caught up with a lot of folks. All of that was a ton of fun and I would have been happy with that... but turns out my name was selected to be part of the evening's group activity.
The group activity for the evening was a little Hustle competition... long and short of how to participate was that we would put our name on a list under one of our instructor's names then one of those names would be drawn so that each instructor had a student to dance with. My name was selected to compete with RT. Winner would be decided by studio applause.
So RT, in his fro wig and Elton John style sunglasses and I were on the floor with 8 other couples... they played a nice solid 70's Hustle... I can't remember which one, my memory doesn't work the same when I'm trying to perform. Anyway, TSD and his student partner were pulling out a lot of show stoppers... TSD was blindfolded (but I'm pretty sure he could still see a little) and he had his student lay on the ground so he could scoot over her. RT and I spent the first part of the dance laughing at them... then it was time to focus and just try to follow.
Hmmm... what do I remember about the dance... well I remember at the beginning that I wasn't very nervous...but RT was trying his best to keep me calm... I was more concerned about a blindfolded TSD... the dance itself... I remember a lot of spins... a LOT of them! Then towards the end of it, RT lead me into 4 consecutive spins and I didn't spot them very well, but I did finish them... right after that I heard a few women calling my name... which spurs RT on to lead me into more spins... Thankfully they were the kind of fast independent spins that I'm really comfortable doing. Then I remember my heart rate getting a little too high... combo dance and champagne punch... So I tried to bring it down through breathing... I must have become a heavier follow because I started hearing "Come on Kat..." from RT... which I chose to ignore... now was not the time for me to start an argument with him. Once the dance was over RT escorted me to my seat so we could watch the amateur couples compete in their "heat".
After cheering for my favorite couple... it really dawned on me... this was going to be a popularity contest... "Winner by applause" always is right? I never usually win in these types of situations... but after a quick look at the audience.... knowing that I had a lot of friends and blog readers present.. I thought I could maybe have a shot... I don't EVER do these kinds of things... so I think RT and I could at least land in the top 3 based on what I thought the popularity level of the other students was.
As we were called to line up competition style, RT says to me "9th place...that's us."
I couldn't believe he said that 9th would have put us in the bottom! I just turned and said "Ummm... I think I'm a little more popular than that!" Then I was struck by the sheer cockiness of my statement... I NEVER say stuff like that! I don't even believe stuff like that! Great, I probably just jinxed us.
Jesse was master of ceremony, he raised his hand above each couple and they were met by moderate applause... TSD and his partner were just behind us and when Jesse's hand went above them the crowd got noticeably louder....
Oh great...they just won it.
I thought... Then I looked up as Jesse's hand was just above my head... and the applause level was about the same!
Immediately the four of us were pushed forward for a final determination... I heard cries from the crowd for a dance off.. but they didn't have time for that... So TSD and his partner were called for another round of applause and TSD whisks his partner up in his arms, and spins her around the floor...
That's it...they got it... I don't want to pull a stunt like that.
I think, at the exact moment RT is rapidly tapping me on the shoulder...
"Do me, you lift me!" he whispers excitedly....
As my head is screaming
NO!
I feel my head nodding yes... DANG!
So RT and I are called forward... there was applause... but it wasn't loud enough... I had my left arm around RT's back... I stuck my right arm out... if I'm lifting him...he's jumping for it... he did... and there I was carrying my dance instructor... I wasn't thinking..well not really.. I'm told all that followed was really quick...but I can only see in my mind what I saw during that "lift" as I'm standing there... I think I was smiling... but looking at the floor... it dawns on me...
I could spin... I could spin and he wouldn't fall.
So I did like two really quick spins and then I suddenly really didn't like the idea that I was carrying my dance instructor... so I dropped his feet rather unceremoniously... but the cheers were louder! RT and I were declared the Winners!!! YAY!!! RT lead me into a traditional spin then bow for thanks to the crowd. My prize was a coffee mug that says "Dancer" on it, which I tried to accept with all the drama of being handed an Oscar... unfortunately that drama was really just stuck between Jesse and I... but I figured... heck I just lifted my dance instructor to win... I'm entitled to get a little over dramatic.
Do I particularly enjoy the fact that I can haul my instructor around?? No, we all know I don't like to overplay the fact that I'm strong... but I will admit to doing that exclusively so we could win...
What I love is that without the final "stunt" we would have came in second on merit alone... That I really like... :-)
The rest of the party went on as usual... I got a few comical dances in with Largo and CWS but the fact that I actually won something really didn't dawn on me until later... and then I smiled... a lot. :-D
After the party I was sure to get a "victory photo" with my disco RT... Enjoy!