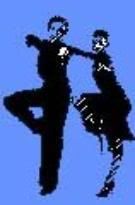 Whew! It's been a rough night… I know the last time I posted I was just coming off a major cycle of downer emotions. Per usual, my dance lesson helped me to see the light and turn around. Boy am I glad I did, my lesson tonight was brought to a whole new level. I THOUGHT my instructor had worked me over before… not every lesson, but every once in a while I just walk out of the studio feeling worn out but happy. I've talked about working out, I've told you what I do, I'm here to tell you I'm not nearly pushing myself as hard as I could, which is going to have to change.
Tonight's lesson, wow… only one way to describe it… I got my butt handed to me on a silver platter. We opened with a hustle, and that really warmed me up and wore me out a little… and just after my proclamation of "Ok…tired now!" my instructor was not having any of it we rolled right into East Coast Swing, followed by Salsa, then Cha Cha, back to EC Swing, and right when I asked for West Coast Swing… thinking that could slow us down a bit so I could start breathing normally again… we did WC Swing at double time! Past research has told me that if you keep up a Rhythm/Latin style dancing for 40 min you can burn just over 500 calories, which is unreal for most workouts. We did slow a bit for Rumba, but then Salsa came on and another Cha Cha… CRAZINESS… It didn't feel like long before I was keeping up by shear will with VERY loud thoughts CURSING the day I lit up my first cigarette... I was getting sloppy and I don't even want to think about my footwork…. my poor instructor perspiring in his nice work clothes (always a shirt and tie for the gents), and this lesson was by no means at the end of his day…but he was insistent on putting me thru my paces. I was tired, my legs were feeling a bit like Jell-O, at the bitter end I wasn't spotting my turns very well and dizziness was setting in, but I figured only a few more minutes right? I re-committed and FINALLY got my last Salsa pivots to stay in their slot… I think.
After, I was out of breath, but not the worst I'd ever been in, my face was completely flush. I have never danced like THIS for a full lesson before! I was tired for the whole drive home; thinking that turning in early for the evening was a good plan. Well, I sat on the couch for about
20 min, ate my traditional salad for dinner, and I was ready to go again! SERIOUSLY… if someone would have called me and wanted to head out to the Salsa clubs I would have run out the door! The endorphin rush from that lesson was great! I'm now brainstorming ways to push myself harder, my instructor can't be the one that can get me to push like that, I have to do it myself. Besides, if that's what lessons are going to be like now, I HAVE TO KEEP UP. I can't wait to do that again… only better next time!