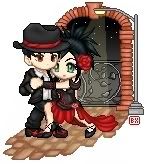 Without a doubt, if my dancing has a home... It's dancing with RT. When my dancing wants to go on vacation, I head to dance with MSU and HBF at
FADS South Barrington
.
Friday's "Crazy Hair" party at the South Barrington Studio was one of the most crowded I've seen there in a long time, which I was happy to see. It was exactly what I needed after completely beating myself up over my last lesson. Shortly after arriving, I was warmly greeted by the staff. I was a tad early so I commenced watching all the lessons on the floor, and greeting the students that I have had the opportunity to get to know during my visits to this studio.
First Cha Cha up, and MSU comes running for me... The song seemed short, and I unfortunately tripped over myself...but I still got some spinning in. A few songs later they played a Salsa, and suddenly the floor went empty! It took me a second to remember that new students don't learn the Mambo or Salsa right away. The supervisor (who started as an instructor at FADS BG...so we've danced before) grabbed me for a dance saying "Hey, ok I know you Mambo or Salsa or something."
I replied as I followed him to the floor, "On1 if you please!"
We commenced with a basic Salsa, pretty much the only ones on the floor... not a whole lot of anything that RT or MSU would lead me into, but that's ok... this lead doesn't have any idea what I'm capable of.
Once again the Tango made an appearance in my party going...and was likely pretty amusing to the onlookers. I was asked to dance by the most petite member of the staff, (who actually used to be one of RT's students a while ago). She's probably about 5'1'' in her ballroom shoes... I stand at a full 5'10''+. It was basic...we did nothing outside the basic or promenade... but I gotta tell you I had NO IDEA I could lower myself that low for a smooth dance!
I also danced a nice Fox Trot with the other new gal, we had a little fun with it... she's new to teaching ballroom (although an experienced dancer) and I'm rough at smooth, so there's nothing to really do except have fun with it!
Later in the evening I got a Cha Cha in with HBF, who just re-discovered my ability to spin. (She has always liked to spin her follows... A LOT!) I'm more than up for the challenge, but the songs were so short it wasn't a micro second before we had adjusted to each other as dance partners that the song would be over. No worries, I'll get better and the adjustment time will shorten.
I spent a lot of time catching up with the students I always chat with at this studio. It's nice to catch up with them and see how they are progressing. One of the gals, who I actually lead in her FIRST Push Pull Hustle a few months ago, danced a much more polished Hustle with her instructor MSU as part of a newcomers kind of dance. I was very proud to see her out there holding her own!
There were also some of HBF's little girl students who did an adorable swing routine... I know at least one of the girls from one of the previous parties. She came over with one of her classmates and asked if I knew any of the boy parts to the dances. (I know...too cute right??) At the time it was another Tango playing... (Why am I always being asked to lead a Tango??) I said I could probably figure it out... and we did a basic Tango around... my petite follow (I'd say she's about 10 years old) actually taught ME how to finish the lead for a Tango promenade! I thanked her very much for that. I then grabbed one of the other little gals for a little Rumba. Both of them are EXCELLENT follows!!!
The last dance of the evening was a "snowball" where the song runs on, the host says "SNOWBALL" and we have to switch partners. The dance was East Coast Swing, I started with HBF, we ran through all the steps I know. SNOWBALL, and I got MSU...for another run through of all the steps I know...and finally SNOWBALL... I got the supervisor, for MOST of the steps that I know... it was a pretty fast swing too... all the jumping and spinning... LOVED IT!!
I closed the evening chatting with one of my favorite South Barrington Students, while trying to take at least SOME of the 17 mini ponytails out of my hair. Turns out she's doing her first comp in October too! I told her about Ellen, and said I'd see her there. Then ran up to meet my girls for our traditional nachos.
Now, I can't WAIT to get back to my lessons and really work on all these new elements that are about to be thrown at me! That party was JUST EXACTLY what I needed!