Part of my role on "The Ellen Support Team" was to make sure we could find suitable dresses for her to rent. Well I knew exactly where to go for that!
Bonnie's Belle Gowns
of course, it's exactly where I would go for my dresses if I were to compete.
Bonnie's Belle Gowns
has been supplying the Northern Illinois/Southern Wisconsin area's ballroom world (pro and am alike) with gowns for a few years now at least. They actually got their start by supplying FADS BG's students with competition gowns. Now I see Bonnie's handiwork at every competition I attend! The proprietors, Bonnie and Michael are ballroom students and amateur competitors themselves, so they know what it takes to sparkle on the floor. Not to mention that Bonnie has been creating clothing of all kinds her whole life, she knows her way around a sewing room better than anyone I've ever met.
Ellen and I talked at length about dresses. Previously, anytime I would ask Ellen about competing, she would always tell me "No, absolutely not... I will NEVER look good in ANY of those dresses!" So I was prepared for our excursion last Saturday to Bonnie and Michael's home for her fitting. I had previewed the
website
, and had several dresses in mind for Ellen to try on. She had two specifications, sleeves, and good coverage. Both things I let Bonnie know about the week before. I was even prepared, should Ellen's confidence need it, to jump into a few dresses myself to prove that even I could pull off a Rhythm and Smooth look. (I'm of a much more unconventional shape than Ellen...so I thought it was a good idea.)
We arrived just after 2 in the afternoon, Ellen was a bundle of nerves! Bonnie and Michael welcomed us back into their fitting room and I took my seat on the settee ready to offer my always straight forward opinion. Bonnie announced that she had a brand new Rhythm dress that had just been completed. It had never even been tried on by a real person before! She pulled a Merlot, knee length, 3/4 sleeve dress. It had beautiful stoning details at the neckline and the hem was trimmed in matching feathers. Well, at the sight of it Ellen's eyes lit up! Turns out it was one of her favorite colors! I kept thinking
How special to be the first one to try on a garment!
Ellen put it on...and PRESTO! It fit beautifully!! It met all of her requirements, and to see her smile at herself in the mirror was a true delight! Bonnie just knew it would work for her... THAT'S t
he sign of a talented artist! Ellen couldn't stop smiling! It reminded me of a bride that had just found the PERFECT dress! (Seriously, Ellen had THAT kind of smile!!)
"That's it!" I exclaimed! Ellen started saying something negative... I wouldn't even let her finish... "Stop it! Look at that smile! Shut up, this is the one!" I then promptly took my camera out to get it on record.
There was an instant sense of relief in the room, the Rhythm dress was the one that Ellen was concerned about the most. I knew even before we arrived that we had made the best choice with Bonnie for the dresses, but after making Ellen so happy in the span of 5 minutes there was absolutely NO question about going any place else!
Next dress up, Smooth... Bonnie first pulled out a dress that her daughter had used to compete in at one point. It's a beautiful black gown with a drop waist and a full eye catching flowered skirt. Ellen put it on, and it worked...but it just didn't have the same effect that the Rhythm dress had. So we decided to keep it in mind and try for another. The second dress Bonnie selected was actually the same one I thought would work out perfectly as well. It's a deep blue with one long sleeve, and one more float style sleeve that matched the full flowing blue/white "cracked ice" chiffon skirt. Well, Ellen has really pretty blue eyes... so I knew this shade on her would just make them POP. Once this dress was on, the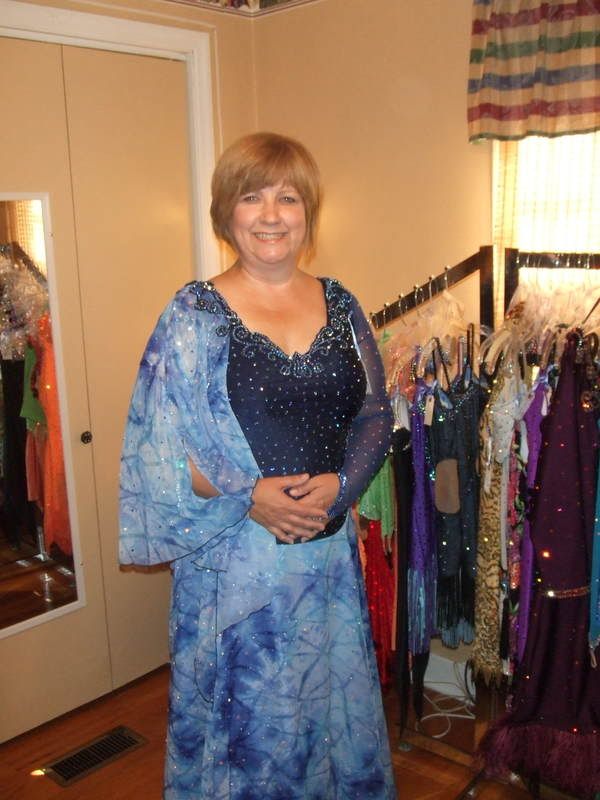 smile came back... and Ellen was transformed before me into an elegant queen.
"Hmmm... I don't know." Ellen said, trying not to smile...
"Oh, no you don't... look at that smile! You know you love it!... holy cow...did we really just do this in three dresses?"
"I don't know, is it too long?" Ellen retorted, but she was smiling!
Bonnie assured her that it was the appropriate length for a smooth gown... and we were finished!
After a quick discussion on how the rental agreement works, the deposit was made... and Ellen was outfitted for the comp!
I was absolutely amazed!
I was all set to be there for HOURS, I was ready for a fight... I was ready to try dresses on and prove to her I could look good too. NONE of that was needed!!
Instead we were there for just over an hour and Ellen was SO happy!!!
I'm telling you... if you're a competitive ballroom dancer at any level in the area you have GOT to check out
Bonnie's Belle Gowns
to see what she's got... the talent is endless! Existing dresses are available for rent or purchase, you can even have one custom made! The craftsmanship, attention to detail, and professional friendly demeanor is unmatched.
Their
website
is updated regularly, and they can be seen at many local area functions...check it out for their latest info on trunk shows etc. Then bookmark that site and visit often to see the new creations! (I have been so blown away by the creativity and talent I had to spontaneously e-mail and let them know how impressed I am!)
Now, everyone... listen here... come on out and support Ellen and all your other favorite FADS students in the region at the DanceSport Challenge: October 11th and 12th at the Hyatt O'Hare. (See your local
FADS in the Chicagoland area
for details.)