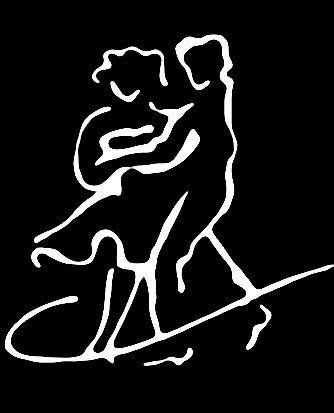 This week's lesson with RT, was as they usually are, really technical, but per my usual style I refuse to allow my entire lesson spent on fine tuning one little thing when I feel much more comfortable working technique out while actually dancing.
RT and I opened with East Coast Swing, which we haven't done together for a long time now, and it was a blast like always! I don't know why, but RT is one of the few leads I've had for East Coast that isn't afraid to travel across the floor during the basic triple step. I always figure if we've got the space we should use it, and as soon as I feel the push to triple step my way in one direction or another I have to keep myself from squeaking a "WEEEE!!!" out as it always feels like a bit of a ride! We covered not only elements but most of the steps I know, and even worked on the Swing version of the swivels. It was a most excellent way to warm up at the top of a lesson.
We then moved into some Salsa/Mambo which I'm pleased to say I'm progressing at rather nicely. I've even developed what I consider to be a solid double spin, which to this point I can't even attempt in some of the other dances. RT also showed me a pattern/step that involves the lead going around the follow and ending in a nice spin back to basic frame/step. I seemed to pick up on it fairly quickly but, now several days removed from the actual lesson, can't tell you if I'll be able to read the lead appropriately in the future, I'll just have to hope on that one.
After Salsa, we went back to Rumba... it seems that of all the dances one could work on technique in Rumba for a lifetime and never really have it as it should be. We spent a good portion of the lesson moving ribcage, then hip, ribcage, hip...again...and again... My frustration grew, I promised to work on my ribcage to hip relationship at home and told him that Buddy had showed me a spiral at the end of a step a few weeks ago that I wanted to work on instead. So we did... and turns out the spiral turn happens at the end of a Cuban walk step...so we walked, I would try to spiral, and we walked again, and again I would try to spiral... I've got the spiral part, it's the timing that I'm screwing up, and the walking bit always needs help. By the end of this technical bit I was again frustrated, but did feel like I had a better grip on that style of turn, and while I know I have shown promise with my Cuban walks they are still too inconsistent for me to say that I improved those.
RT is very good at reading my frustration levels, as tends to happen when you work with someone for so long, and at some point the weekly question of how many lbs I had lost came up. I told him that it was honestly going well, until the holiday happened then some quality time at the bar happened and now it's not going as well (but that's about to change if you read the post below). So I expressed my minor frustration at not really dancing but working on technique (sometimes with our styles being so different I think it's amazing that we get along at all, much less as well as we do) RT is an amazing dancer and his eye for technique is nearly unparalleled based on observations that I've witnessed...but my brain sometimes just can't process everything he's giving me at once. He asks the magic question "So you want to work it out?" ...to which I could only reply "Yes." We took a break from technique to pick up a Salsa and per usual that made me feel tons better. Then in typical RT style that always just makes me laugh, we picked up the Rumba technique where we left it as if the Salsa break never happened. The lesson ended on technique, which is good because that helps me keep in mind what I will inevitably be working on at home over the next weeks.
Still, learning a lot... every lesson is jammed packed with learning of all kinds. While my learning curve that was reported in the past had slowed, it appears to be picking up again. With that and the events as briefly reported below developing the next few months should be very promising on all fronts!